We eat a lot of eggs in our house – they are a good, cheap source of protein and my eldest three like them (though they pretended they didn't for quite a long time 😉).
Frittata is great because it's quick to make but also because you can make one with any veg you've got leftover in your fridge. Just make sure they are fully cooked before you add the eggs because they don't get much frying time after that!
I use a small (20cm/7 inch) frying pan like the one shown below* to make a good, thick frittata. If you use a larger one it will take less time to cook.
Butternut squash is one of my favourites to add to this meal, though. When it' cooked it' soft and sweet and I think it works well with the fluffy news of the eggs. I added 120g to this meal but I think it could have done with a bit more so have suggested up to 150g.
My other favourite ingredients to add to a frittata are red peppers, red onions, sweet potato and feta cheese (instead of cheddar). I've never tried adding potato but Will tells me they use it at his school and that it tastes good 😆.
Ingredients
Serves 2
120-150g butternut squash
1/2 tbsp oil
120g butternut squash
1/2 tsp mixed herbs
1 clove garlic
2-3 spring onions
3 large eggs
50g mature cheddar
Method
Peel and chop the butternut squash and garlic and add to a small frying pan with the oil and mixed herbs.
Fry over a medium heat until soft, stirring occasionally (this will take 5-10 minutes depending how large the pieces are).
While the squash is frying peel and chop the spring onions, then beat the eggs and grate the cheese.
Once the squash is cooked add the spring onions, then the egg and finally the cheese.
Leave for around 5 minutes to allow the eggs to cook from the bottom. When they are cooked you will be able to lift the frittata from the frying pan with a spatula, but the eggs will still be runny on top.
To cook the top, place the frying pan under a medium-high heat for 2-3 minutes (make sure the handle isn't under the grill).
Cut the frittata and serve with salad (and chips if you want to).
I've shared this recipe with: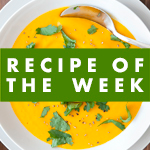 *This image contains a link that will take you to Amazon.com. I am a participant in the Amazon Services LLC Associates Programme. This means that if you make a purchase from Amazon after clicking on this link I may make a commission which contributes towards the running of this site.